Read Adam Szymkowicz's' interview with Melody on his I Interview Playwrights blog
MR. BURNS: A POST-ELECTRIC PLAY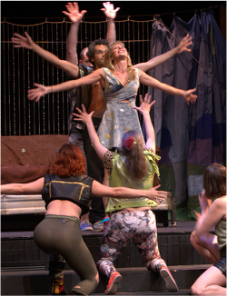 August 2016 at the Stonington Opera House in Stonington, Maine
Written by Anne Washburn
Directed by Meg Taintor and Sarah Gazdowicz
Produced by Opera House Arts

"The actors share the spotlight with ease, passing the focus back and forth gently and generously. It's the kind of group effort that still features abundant individual highlights…Bates marries an engaging energy with moments that could serve as a treatise on portraying barely-contained fear…Put it all together and you have one of the most intellectually challenging, inherently powerful shows that we've seen in quite some time" Allen Adams, The Maine Edge
​
"...performances so equally good that it is difficult to say one outshines another….Bates' Lisa Simpson is as kind and smart as her cartoon counterpart…"Mr. Burns" is a triumph for Taintor and her company." Judy Harrison, Bangor Daily News


---
R & J & Z -- New York Premiere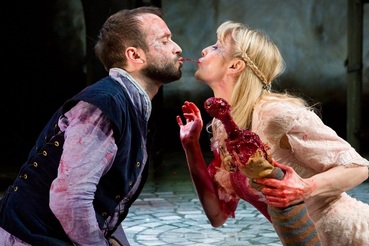 April 2015 at The New Ohio Theatre in New York CityWritten by Melody BatesDirected by Joan JubettProduced by Hard Sparks
"
Bates makes Juliet strong and delicate even with a taste for flesh. She's convincing as a Shakespearean heroine, a blood hungry zombie, and a girl in love.
It's not an easy trio to pull off."
--Nicole S, Mildly Bitter's Musings
"
As Juliet and Romeo respectively, Bates and Matt Hurley pair nicely.
They fluctuate from romantic flourishes to hammy flesh-munching humor on the turn of a dime...
R & J & Z exceeds all expectations...Jubett and Bates have also accomplished that rare satisfying balance of scary and funny
...
R & J & Z
is a very entertaining show for all of the right reasons.
Shakespeare is not spinning in his grave, but perhaps he will rise from it just to see this delightful, theatrical gorefest.
"
--Rachel Kerry, New York Theater Review
---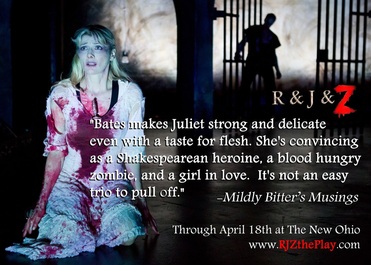 "Honestly, I couldn't keep up a body count...directed by Joan Jubett in the boisterous style of fellow genre-masters
the Vampire Cowboys
...the blood effects, courtesy of Stephanie Cox-Williams, are splendid...
[Bates] keeps the iambic pentameter going right until the end, which is no mean feat
. And in a sweetly schmaltzy way, she makes good on that whole immortal love story thing."
--Alexis Soloski, The New York Times
"The Bard may be turning in his grave, but I am sure Bates would not mind adding him to her madcap zombie horde...
This strong cast only enhances Bates' clever text, and they clearly enjoy the universe she has created
...It is a witty reflection of the choices we make in life and their consequences. If we could bounce back from the grave, what would we do differently?"
--Sarah Webber, Theatre Is Easy
"From the last line of Shakespeare's text (which is interrupted by a zombie attack) the humor and humanity shine through. The story of two lovers who were too good for this world (see also any Japanese love suicide play) changes into a call to bring love into this world. The sword skills of the fabulous ensemble, especially the Searchers (thanks to Dan Renkin, Fight Director) might have you screaming "kill him again", but it's all very edifying."
--Ed Malin, NY Theater Now
INTERVIEWS AND OTHER PRESSREVIEW FIX:
Patrick Hickey Jr. interviews Melody about the intersection between Shakespeare and horror, and looks for an answer to the question on everyone's mind: slow zombies or fast zombies? (Spoiler...maybe both?)
GO SEE A SHOW:
Mariah McCarthy, J.Stephen Brantley, and Melody Bates talk Romeo, Juliet, and zombies on Robert Gonyo's celebrated podcast
BLOODY BLOODY ROMEO AND JULIET:
Jody Christopherson interviews Joan Jubett, Melody Bates, and J.Stephen Brantley about the poetically gory R & J & Z
---
IF COLORADO HAD AN OCEAN...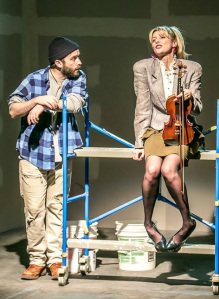 November-December 2014 at La MaMa E.T.C.
Written by Mike Gorman
Directed by David Bennett
Produced by The Forty Hour Club


"Gorman's writing is lyrical and bold, a sort of magic realism that basks in the sheer energy and joy of the creative impulse, and the explosions that are possible when that impulse bashes against compulsion, or obsession...This production is directed with rigor and care by Mike's frequent collaborator David Bennett, who mines the script for its innate theatricality and creates an epic, ever-moving tapestry ...The actors are terrific: Matt Hurley and Melody Bates anchor the piece as Steven and Michelle..."If Colorado Had an Ocean..." is my favorite kind of theater, not just inviting us to spend time in a different time and place, but really immersing us in it, engaging all of our senses and leaving us with much to ponder and savor long after the show is over.

---
R & J & Z -- World Premiere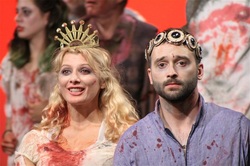 World PremiereJune-July 2014
at the Stonington Opera House in Stonington, MaineWritten by Melody BatesDirected by Joan JubettProduced by Opera House Arts
"
Bates has done admirable work in bringing this script to life
...Keeping that sense of language while still allowing the humor room to flow is an impressive feat.
Bates has a deftness of phrase that is a joy to experience
... It's a daring choice, casting Bates in a central role in her own script, but it works;
she has an inherent understanding of the goings-on that allows her Juliet a high degree of self-awareness. She's smart and funny; everything this character should be
...'
R&J&Z' is an unexpected marriage, a mash-up whose diverse pieces come together to create something new and different and wildly entertaining. It's a wonderful piece of work from Melody Bates
– whether you're a fan of the Bard, brains or both, there's something here for you."
--Allen Adams, The Maine Edge
---
THE HENRIETTA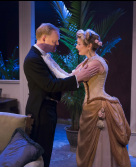 April-June 2013 at the Metropolitan Playhouse, NYCWritten by Bronson HowardDirected by Alex Roe
"'The Henrietta,' a comedy set in 1887, resonates today...Fresh...endearing...
The cast of 12, directed by Alex Roe, is splendid
."
--Ken Jaworowski, The New York Times
---
ANTONY & CLEOPATRA
June-July 2012 at the Stonington Opera House in Stonington, Maine
Written by William Shakespeare
Directed by Craig Baldwin
Produced by Opera House Arts

"Melody has the ability to be youthful, kittenish, sexy and playful, then all at once summon Cleopatra's strength, regality and dominating presence, and then switch back again in an instant. She is strikingly beautiful and appears very iconic, like Cleopatra. There is a twist here though — this is a blonde bombshell Cleopatra."
--Director Craig Baldwin, quoted in the Bangor Daily News

---
EIGHTYTHREE DOWN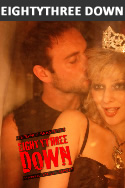 September 2011 @ Under St. Marks, NYC
Written by J.Stephen Brantley
Directed by Daniel Talbot
Starring Melody Bates, Ian Holcombe, Bryan Kaplan, and Brian Miskell
Produced by Hard Sparks in association with Horse Trade Productions
Published by Indie Theatre Now

"The cast is amazing and does an excellent job with playwright J. Stephen Brantley's script. Bates is outstanding as Dina, at times child-like and innocent and at others, marvelously manipulative, but always with a mixed together core of sadness and hope. Watching her peel back the layers and exposing just a little bit more of Dina's true self is marvelous." -- Byrne Harrison, Stagebuzz.com

"A first-rate ensemble cast…Director Daniel Talbott took full advantage of his powerhouse cast's range and openness and the entire hour is filled with not just emotional ferocity, but with turbulent physicality…Doing justice to Brantley's dynamic script, the cast pushes through nearly every moment with an almost unbridled sense of energy. Bates' portrayal of Dina is a perfect tribute to an '80s caricature. She weaves bubblegum sweet words and tones into every moment and runs at a constantly manic pace."
--Terra Vetter, Theatre Is Easy

---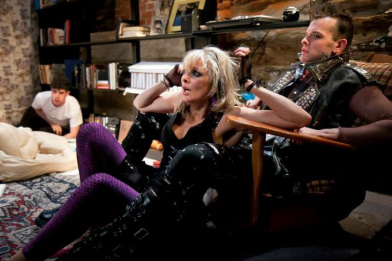 "The direction is tight, and the actors keep the intensity high for a full hour. This is, without a doubt, edge-of-your-seat theater...Melody Bates's evocation of the sexy-pathetic ruined party girl is right on."
–Will Kenton, Cultural Capitol


"Melody Bates as Dina has some wonderful moments when her characters' illusions come under fire."
-–Nathaniel Kressen, NYTheatre.com

"The four-person cast of Eightythree Down strikes the right balance between volatile hysteria and emotional realism."
–-John Peacock, Flavorpill

"…delectable and tweaked (on pills or cocaine or both) Dina (Melody Bates)…looks like a cross between Debra Harry and Michelle Pfeiffer in the trashy early scenes of The Fabulous Baker Boys, and all of this is a compliment to Ms. Bates. She is stunning and the characterization perfectly pitched... this is definitely worth a trip to St. Marks Place."
-–Martha Wade Steketee, Urban Excavations


---
CONNI'S AVANT GARDE RESTAURANT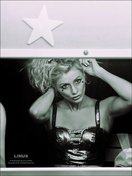 Recent productions include September 2011 at The Irondale Center in Brooklyn and December 2010 and 2011 at the Cleveland Public Theatre. Past venues include Joe's Pub, the Ohio Theatre's Ice Factory Festival, and A.R.T.'s Club Oberon. Melody is a company member. Check out the whole crew at
www.avantgarderestaurant.com
"…members of the goofy, gifted eight-person ensemble are fully in character from start to finish…Silver3 (
a delightfully giddy Melody Bates
), a French chanteuse in a sliver tutu twirls through the ephemeral eatery on trainers equipped with wheels. (The "3," by the way, is silent, 'so you can just call me "Sil-ver,"' she coos.)"
–
Andrea Simakis, The Cleveland Plain Dealer
---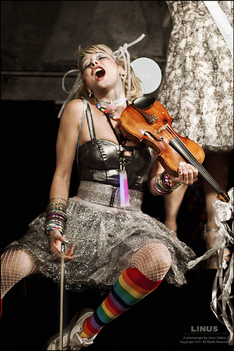 "'Conni's' is a drunken (or at least buzzed) and debauched bacchanalia led by 13 whacked-out and in-yer-face actor-singer-dancers…including Silver3 (Melody Bates), a tall, leggy, come-hither, Heelys-roller-shoed Medusa who pronounces her name with a French accent…Give yourself over to absolute pleasure."
–-Tony Brown, Cleveland.com


"...it's wonderful. Energizing. Hillarious. Filling. Maybe Brilliant....Here's a guarantee: You have never experienced anything like it. Unless, of course, your mom is a top chef and certifiably insane." –-Christine Howey, Rave and Pan

"Conni's is heart-warming entertainment, in all senses of the word…It's the loving care the performers put into both their characters and their hospitality. It's the connection you feel as you become part of the community that forms throughout the evening."
-–Brian Patrick Thorton, Spangle Magazine

---
HOW AND WHY I ROBBED MY FIRST CHEESE STORE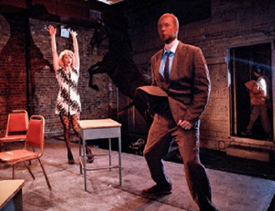 May-June 2011 @ La MaMa ETC
Written by Michael Gorman
Directed by David Bennett
Produced by The Forty Hour Club in association with La MaMa ETC

"Great performances from the entire cast, especially Melody Bates, Travis York and Alan B. Netherton…Claudia (Melody Bates), the ditzy rocker-chick, public relations rep, manages to also steal many scenes with her naïve yet well-intentioned enthusiasm…Bates portrays the airhead blonde convincingly, without falling into clichés." –Adrienne Urbanski, Theatre Is Easy


---